Water Damage Restoration in Dracut, Massachusetts
Searching for a Dracut water damage restoration contractor?
Certified Green Team has been in the carpet cleaning business for more than 10 years. We specialize in restoring carpet and area rugs that have been water damaged in Middlesex County, Massachusetts.
We work directly with your insurance company to process claims as efficiently as possible. When you have Dracut water damaged carpeting or rugs, call (617) 586-2586 for emergency service 24/7.
Leave the water damaged mess to Certified Green Team.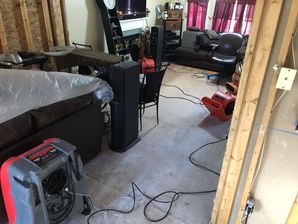 Dracut water damage restoration is a job that's best left to the professionals. Certified Green Team has been salvaging carpet in MA for 10 years.
Our first priority is to make sure the area is safe. We remove all unsalvageable property, including sheetrock, then thoroughly dry the entire area with high powered fans.
All Certified Green Team restoral specialists are IICRC certified in water removal and restoration for Massachusetts, the most widely recognized and accepted certification program in the restoration industry.
Restore your carpet, upholstery, and other water damaged property by calling Dracut's water damage specialists at Certified Green Team: (617) 586-2586.
We handle water damaged contents safely.
When it rains, it pours. Heavy rainfalls, ice dams, leaking windows or doors, burst pipes, toilet overflows, and faulty appliances can all damage Dracut carpet.
Whatever the cause, water damaged property in Dracut needs to be dealt with immediately to prevent mold and mildew growth. Certified Green Team will get on site quickly to assess and contain the water damage.
We strip walls down to the studs, if necessary. Our staff will safely remove and dispose of water contaminated sheetrock and other property. Our powerful fans dry the area and room contents thoroughly. We apply sanitizers to prevent mildew.
Dracut water damage restoration is our specialty.
At Certified Green Team, our first priority is to get rid of any standing water in your Dracut home or office, using a truck-mounted water extraction vacuum.
The restoration process begins by using the same high powered vacuum to extract water from your Dracut carpet, area rugs, and carpet padding. We remove damaged sheetrock, then begin the drying process using high intensity fans to remove any remaining dampness.
We use an environmentally-safe cleaners and deodorizers that smells fresh and pleasant. Dracut water damaged carpets are thoroughly rinsed via hot water extraction to remove all traces of dirt, mildew, shampoo, and other debris.
Once we move everything back into place, your Dracut carpet will look like it was just installed. Call (617) 586-2586 for quality restoral services.
---
Call for FREE Water Damage Restoration Quote
---
WHAT CUSTOMERS ARE SAYING:
5★★★★★ - "I had need to furniture upholstery cleaning.For this I called Certified Green Team and tell them the problems.Then they sent their cleaners.They came in time and fixed my problem.They were very friendly and did very hard work.I will call them again for my area rugs cleaning."

Jack Jonson, Carpet Cleaning in Lexington, MA

2019-07-02

5★★★★★ - "Great service! They came at time, were very professional and did a great job. I highly recommend this company"

Tetyana Ivanina, Sofa Cleaning in Stoneham, MA

2019-07-02

5★★★★★ - "I would like to compliment the guys that assembled a kids swing set for me. A huge swing set !! They showed up at 8:00 AM and worked on it till midnight. They actually had to pull a car onto my back yard and use it's high beams for light so they could finish it so when my kids woke up it would be done. They were some of the most professional people that I have hired for any job since I've been a homeowner. They paid attention to detail and made sure it was assembled properly. I can't say enough good things about this company. You will be 100% satisfied with their service."

Dan Spillane in West Bridgewater, MA

2019-06-13

5★★★★★ - "to describe it in short, the service was exceptional. We had a same day service appointment they made on time."

Anonymous

2019-05-28

5★★★★★ - "Very easy going, when I emailed them they responded promptly. Scheduled an appointment the next day. They showed up on time and did an excellent job."

Daymond G. in Arlington, MA

2019-01-07

5★★★★★ - "We just moved into our new home and the carpets needed a good cleaning. The team cleaned our rugs perfectly. I didn't think that it was possible to get them to look like they are brand new again but they were able to make them look fantastic. Great prices and professional staff. I would contact them again for any cleaning needs."

Jessica Lorenz, Carpet Cleaning in Uxbridge, MA

2019-01-02

5★★★★★ - "Very professional, the job was done efficiently. I will recommend them to all my friends."

Mikel Asrov in Acton, MA

2018-02-22

5★★★★★ - "Great job with John and Jessica. Glad I chose this company!"

Theresa Riley

5★★★★★ - "Excellent service, from my first call to their office, and throughout the job. They offer services to get rid of any stains, in my case lots of coffee. The prices were very fair, by far. The technician, was an expert in his field. 5 stars! and I will absolutely call again."

Angy Y., Carpet Stain Removal in Boston, MA

4★★★★☆ - "Very swift, same day service. Prices were OK, and they got rid of every stain, and 3 weeks later, the stains are still gone."

David D., Carpet Stain Removal in Brighton, MA

5★★★★★ - "When we had family coming over for the holiday, we had just realized how many years it's been since we had our hand made rugs cleaned. As we looked at our rugs, one thing was evident; that we need cleaning. Now I am not comfortable sending my rugs out with just any company, as I love them like my own children and pets.We searched and called several companies, none of which I could entrust to do the job. When we found Certified Green Team and called the office, I was expecting the same service I was being offered by every other company.What I got was someone who before pitching, and selling reassured me that the priority was to do any treatment necessary to guarantee I would have the rugs in the two week time frame I was looking for and that the rugs would come back smelling fresh and clean, as opposed to saturated with pet stains. They offered a free Estimate. once the tech came out, I was more than convinced they can accomplish the job properly. Two weeks later, the rugs were delivered with pads. On top, the techs were more than happy to move tons of furniture around to get the rug back where they belong. All in all working with Certified Green Team was a very pleasant, yet cost-friendly approach to carpet cleaning."

J Wienberg, Carpet Cleaning in Winchester, MA
---
Call for FREE Water Damage Restoration Quote
---